PlayStation Space Engineers Pre-order Update
26/04/2023
Greetings, Engineers!
PlayStation pre-orders are happening RIGHT NOW and early access to Space Engineers will start in just a few short weeks (May 11th). Don't miss your chance to be the first to step foot on alien worlds!
We are extremely excited about the response so far and looking forward to PlayStation players finally getting a chance to become Space Engineers. With full crossplay, Xbox, PC, and now PlayStation players can team up and explore Space Engineers on their platform of choice!
As our wishlist and pre-order campaigns have rolled out we have had a variety of questions from new and old community members alike. While we have addressed questions across platforms, we feel that some of the recurring questions can be best addressed with a single post. We hope that this helps add clarity and state curiosity!
So, let's answer some questions!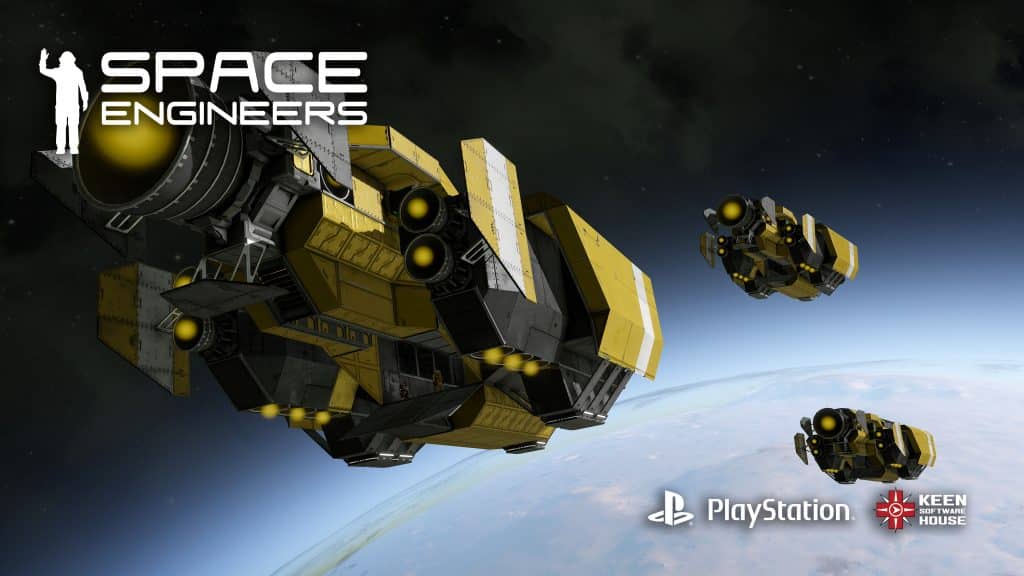 Pre-order Price Change
During our initial rollout, prices for the Space Engineers base game as well as the Ultimate Edition were incorrect and higher than initially intended. We have since worked with PlayStation to correct this.
Prices are MUCH lower than previously listed.
Prices are now consistent across all platforms (19.99 USD or your regional equivalent).
We have adjusted the price on all storefronts and prices should now appear correctly.
PlayStation will automatically issue a refund for the difference in price.
Our apologies for any confusion this may have caused.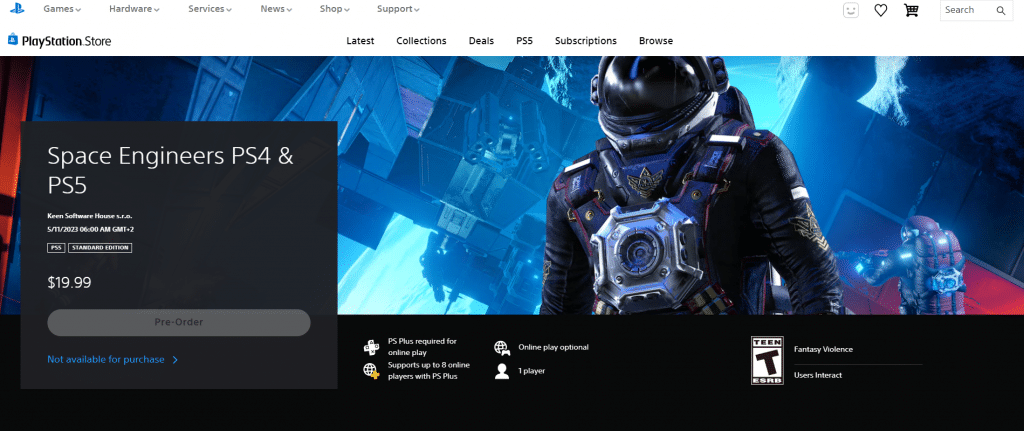 Finding Space Engineers on PlayStation®4 & PlayStation®5
Finding the correct version of Space Engineers for your purchase is fairly straightforward.
If you head to the store via browser you will be able to get the PlayStation version of Space Engineers by either following our provided link, or by simply heading to the store and searching "Space Engineers".
Thanks to PlayStation Cross-buy, this purchase works on both PlayStation®4 and PlayStation®5 – you can play Space Engineers on both platforms.
Alternatively, you can find Space Engineers by searching PlayStation™Store while on your PlayStation console.
Open the PlayStation™Store on your PlayStation®4 or PlayStation®5.

Head to the

Search

feature and enter "Space Engineers".

The correct version will be available for purchase and install.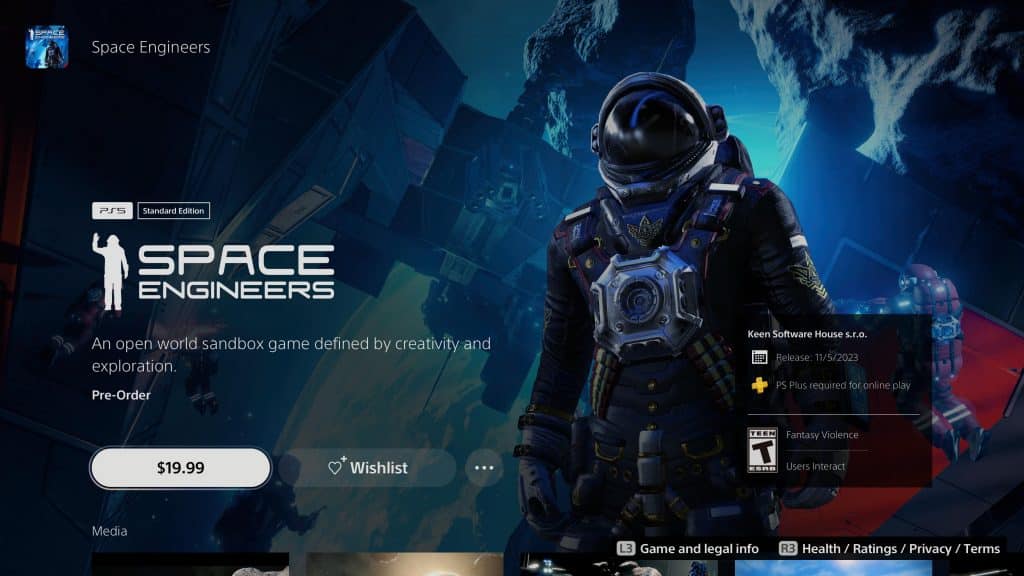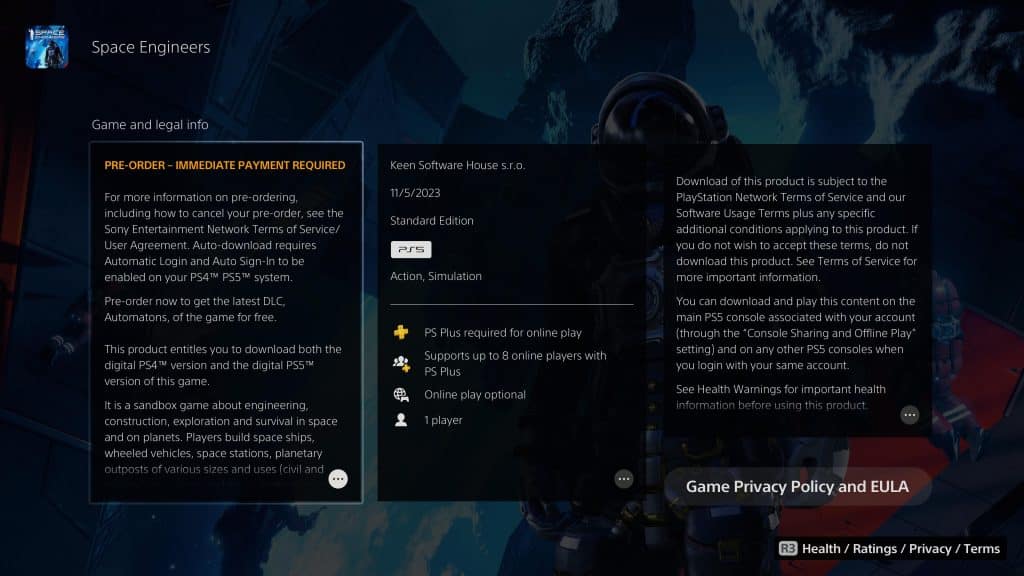 Frequently Asked Questions
Q: Will the PlayStation version be different from the PC version?
A: No, we expect this release to stay true to our vision of Space Engineers and include all of the core features we see on PC. Nevertheless, we had to reduce some complexity settings to deliver the smooth performance on the PlayStation®4 hardware.
Q: Will the PlayStation version be different from the Xbox version?
A: No. Console ports are identical and performing very similarly to their generation counterparts (Xbox One = PlayStation®4, Xbox Series X = PlayStation®5).
Q: Will you release an Ultimate edition?
A: Yes, you can preorder the Ultimate Edition right now!
Q: When will Space Engineers release on PlayStation?
A: Our beta release date is May 11th.
Q: Will I be able to play with my friends that have the PC/XBOX version?
A: Our PlayStation release of Space Engineers will launch with Crossplay enabled. PC, Xbox, and PlayStation players will be able to team up on day one!
Q: Will there be dedicated servers?
A: Yes, we will release with Epic Online Services (EOS) servers. These servers will be shared with Xbox and PC players. We are prepared to increase the pool of available public servers as we adjust for increased traffic.
Q: Will there be mod support?
A: Yes, mods will be fully supported with some restrictions. No client side scripting will be available. For Mods and Blueprints we will continue to use Mod.io.
Q: Will there be scripting available?
A: You can execute your script when connected to Dedicated Server which enables support for in-game scripting.
Q: Will there be mouse and keyboard support?
A: Yes.
Q: On official servers, can other players join the server, find and raid my built base? Does everything stay when I log out?
A: Yes, you can create offline protection in the form of "Safe Zones" and ensure your base is safe while you are away.

Q: Will there be options for automated tasks like grinding/welding?
A: Yes, automation is a big focus of our game – especially with our latest update Automatons.
Q: I want to see raw PlayStation footage!
A: OK! PlayStation gameplay footage, in a cross-platform multiplayer server, with PC, Xbox, and PlayStation players all present, simultaneously: